About
Kerry + René Earnhardt
Husband-and-wife team Kerry and René Earnhardt have shared the spotlight in front of millions of NASCAR fans for more than a decade.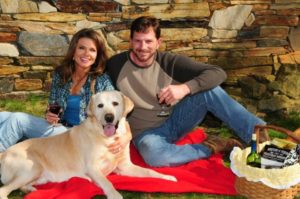 Kerry is the eldest son of seven-time NASCAR Winston Cup Champion Dale Earnhardt and began his own NASCAR racing career in 1998. Since then, Kerry has stepped out from behind the steering wheel and with the same Earnhardt determination for racing, Kerry is forging ahead with his families' passion for the outdoors.
René devoted more than ten years to her professional career in veterinary medicine and like her husband, shares the same passion for the great outdoors in which they've instilled in their four children Bobby, Jeffrey, Blade and Kayla.
Together they have co-founded The Earnhardt Collection™, a family home lifestyle brand inspired by the strength and beauty of nature.
---
Follow Kerry + René on Social Media